Ci-dessous, un extrait de l'article Podrabsky & Hand (2015) à analyser.
« We measured proton leak respiration as a function of the membrane potential (ΔΨM) in mitochondria isolated from diapausing and post-diapausing embryos. Because ΔΨM is the driving force for the leak, it is essential to compare proton conductances between different states only at the same driving force.
When the F1Fo-ATP synthase (complex V) is inhibited, mitochondrial respiration is then proportional to proton leak rate through the inner membrane. Accordingly, the kinetic response of the proton conductance pathway to its driving force can be measured as the relationship between respiration rate and ΔΨM when the latter is varied by titrating the electron transport system (ETS) with inhibitors.
Our results indicate clearly that proton conductance, as judged by leak respiration, does not differ between mitochondria isolated from diapausing and post-diapausing embryos (Figure 8). Consequently, because proton conductance across the inner mitochondria membrane is not restricted during diapause, ΔΨM is undoubtedly compromised. »
Figure 8 : Kinetic response of proton leak at 25°C (measured as respiration rate) as a function of the driving force (mitochondrial membrane potential, ΔΨM).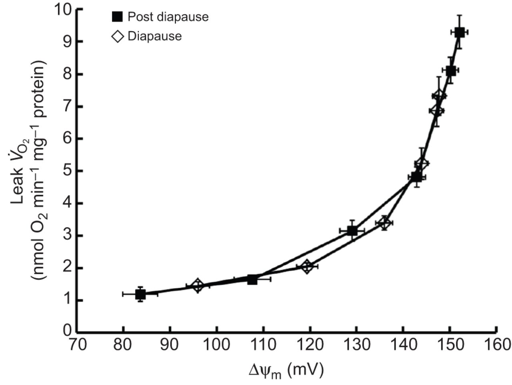 « Mitochondria were isolated from diapausing and post-diapausing embryos of Artemia franciscana.
Succinate plus rotenone was used as the substrate to support leak respiration (state 4) in the presence of oligomycin (inhibitor of the F1Fo-ATP synthase) and nigericin (K+/H+ exchanger), the latter of which served to convert the ΔpH to ΔΨM.
Stepwise addition of malonate (complex II inhibitor) was employed to progressively inhibit the electron transport system and thus lower overall ΔΨM.
Triphenylmethyl phosphonium (TPMP)-sensitive electrodes were used to measure the distribution of this lipophilic cation across the inner membrane, from which the ΔΨM was calculated with the Nernst equation. »
Questions
a. Rechercher cet article via la base de données « Pubmed ». Qu'est Pubmed ? Une version « PMC » en accès « libre » est disponible. Qu'est PMC ?
b. Quelles sont les caractéristiques principales des [cellules / organite] étudiés ?
c. Expliquer le principe de : [électrode sensible au TPMP => mesure de la distribution du cation => calcul de ΔΨM avec l'équation de Nernst] sur la base de l'article Deutsch et al. (1979).
d. De quel processus membranaire s'agit-il ? Où se situe-t-il ?
e. Rappeler les effets du succinate, de la roténone, de l'oligomycine, de la nigéricine et du malonate sur la chaîne respiratoire et la vitesse de respiration.
f. Interpréter les résultats obtenus (figure 8 ci-dessus).