The word fat has an almost universally negative connotation in modern society, whether as a pejorative term for describing someone who is overweight or as a foodstuff reviled for its deleterious impact on health. Obesity is associated with elevated levels of multiple kinds of fat, and fat accumulation in tissues is thought to contribute to the development of the unholy trinity of disorders that characterize type 2 diabetes: failure to respond to the glucose-regulating hormone insulin; failure to control glucose production by the liver; and failure of pancreatic ?-cells, which store and release insulin.
Now, however, Yore et al. report in Cell that certain modified fatty acids are found at low, rather than elevated, levels in obese, insulin-resistant humans and mice. Furthermore, they show that administering these fatty acids to such mice improves glucose uptake from the blood, enhances insulin secretion and relieves obesity-associated inflammation, suggesting that these naturally occurring fats could be used for diabetes therapy.
Fatty acids and closely related glycerolipid molecules wear multiple biological hats, serving as a major energy reservoir, as constituents of cell membranes and as mediators of intracellular signalling. Yore and colleagues' report adds to emerging evidence implicating specific, low-abundance fatty acids as hormone-like 'lipokine' molecules involved in metabolic regulation.
The same research group had previously shown that elimination of the glucose-transport protein GLUT-4 from adipose (fat-storing) tissue resulted in insulin resistance in liver and muscle - a condition in which cells of these organs have an impaired capacity to increase glucose uptake in response to insulin, contributing to the abnormally high blood-glucose levels that define diabetes.
By contrast, adipose-specific overexpression of GLUT-4 caused higher glucose uptake than in control mice - making the mice more sensitive to insulin despite also increasing fat synthesis and levels of circulating fatty acids.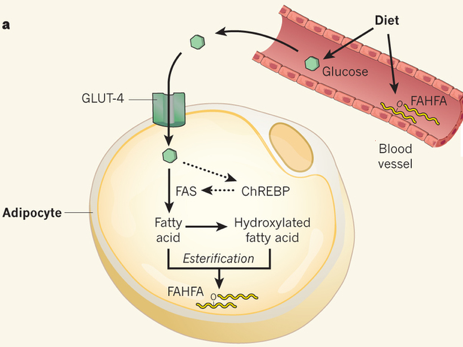 Muoio & Newgard (2014) "Diabetes : the good in fat" Nature 516, 49 - 50
The lipid-generating impact of GLUT-4 overexpression was predictable, given that fat cells (adipocytes) use glucose for fat synthesis. But surprisingly, the enhanced glucose uptake was eliminated by adipose-specific deletion of the transcription factor ChREBP, which regulates fat synthesis, suggesting that the glucose-uptake effect depended on lipogenesis. This finding led Yore and colleagues to the hypothesis that certain fatty acids have positive effects on glucose regulation.
The authors used mass spectrometry to compare the lipid content of the blood serum and adipose tissue taken from these 'diabetes-resistant' mice to that of normal mice. They identified five lipids that were significantly elevated in the modified mice, four of which were made up of a typical long-chain fatty acid (palmitate, oleate, stearate or palmitoleate) joined by an ester bond to a hydroxylated version of one of the same set of fatty acids. The authors refer to these compounds, which had not been described previously, as fatty-acid esters of hydroxyl fatty acids (FAHFAs).